Chase Manning
Chase Against Time
Chase Manning Mystery #1
Chase Against Time
$11.99 (plus $3.00 for shipping) = Order Total: $14.99 ($1 off the Cover Price)
"A fun mystery with a likable main character and a lot of red herrings."
-School Library Journal, August 2012
Awards
• Silver Medal, Moonbeam Children's Book Awards, Juvenile Mystery Category (October, 2012)
• Mom's Choice Award Winner (June, 2012)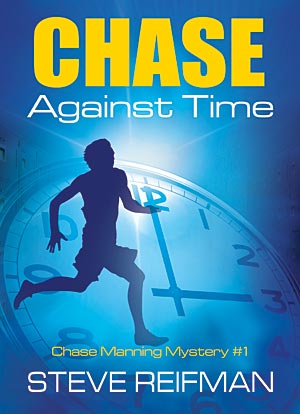 Synopsis
In a last-ditch effort to save Apple Valley Elementary's award-winning music program from looming budget cuts, the PTA plans to auction off a recently-donated, handcrafted cello at the school's annual fund-raising dinner. Confidence is high—until the cello turns up missing the morning of the event. The school principal charges Chase Manning, a fifth grader who has dreamed of playing in the Sixth Grade Honors Orchestra his whole life, with finding the cello by three o'clock. Each hour of the school day involves surprising and suspense-filled plot turns as Chase pursues the elusive cello. This single-day, real-time mystery thriller truly is a Chase against time!
What Readers Are Saying
"Chase Against Time is the most thrilling, exciting story I have ever read. I couldn't put the book down because I couldn't wait to see what was going to happen next. I highly recommend it for children who like mystery adventures."


"This mystery story's setting, is easy to relate to, as it takes place in a school. Kids everywhere will not be able to put down this page turning story about a fifth grader at Apple Valley Elementary School who investigates the mysterious disappearance of a cello that was to be sold at an auction to save the school's music program. Can't wait until the next book in the Chase Manning series!"


"Stunning cliffhangers."


"I loved Chase Against Time. The characters in the book have strong personalities, and it really kept me guessing all the way to the end. I would highly recommend this book."


"Think '24' for kids. As a teacher myself, I will say kids will be immediately taken to this. A number of kids in my own classroom have read it and read it again. They won't put it down! Steve Reifman has just begun and I will definitely be adding each book in the Chase Against Time series to my own classroom library. Check out his other books. He, too, is a teacher and has a great book on teaching."


"I was nine when I first read this book and it was one of the best books I read in third grade. The cliffhangers really made me wonder what was going to happen next and I liked how each chapter started with what time it was. I would recommend this book to second graders to sixth graders."


"This book will keep kids reading. Definitely recommend as a gift."


"What a page turner. I couldn't wait to find out the ending."


"Reifman has done a great job thrilling the reader with a fast-paced, captivating 'whodunit' at the same time he creates an essential moral center. Entertain 'em and educate 'em all at the same time. J.K. Rowling and Harry Potter re-ignited the notion that kids will read. Books like 'Chase' will keep passing the torch."


"This book is really amazing! I really appreciate how many details there are! Chase Against Time is a great read!"


"I finished Chase Against Time yesterday. It was an AWESOME book! I can't WAIT to read your next book!!!"


"Just finished Chase Against Time (in one sitting, of course) and thoroughly enjoyed it. A wonderful first book. Found the main character very appealing, a must for success."


"The story is fabulous...An ideal read-aloud."


"Loved your book, Steve---a real page turner!!"


Book Talks & Book Signing Events
Steve has held many Book Talk and Book Signing Events at public libraries, elementary schools, and private homes since the release of
Chase Against Time
; During these 30-45 minute book talks, Steve describes the process of writing
Chase Against Time
, shares his original notes and outlines, encourages children to pursue their own writing projects, offers instructional strategies and suggestions, and concludes with a question and answer period. To arrange an event,
please e-mail Steve
.
Teaching Kids How to Get "Unstuck" While Writing (Teaching Tip #106)
In this Teaching Tip I provide a link to a short YouTube video I created. The video features two effective strategies that help children become "unstuck" while they are writing. The first of these strategies is a familiar one, while the second is less well-known and a bit more novel. Try these ideas in class with your students or at home with your children.




---
» See all Teaching Tips
Follow Steve on Twitter if you'd like to receive his Teaching Tip of the Week and other important announcements on your phone.