Changing Kids' Lives One Quote at a Time: 121 Inspirational Sayings to Build Character in Children
Buy Now:
eBook
Paperback
Choose format:
Description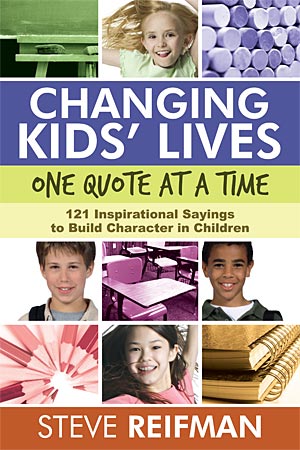 Created for parents and teachers by a National Board Certified elementary school teacher, Changing Kids' Lives One Quote at a Time contains 121 inspirational sayings designed to bring out the best in children and develop lasting habits. For educators, discussing these quotes also helps establish an enthusiastic, productive, team-oriented classroom culture.

Specifically, the quotes target 13 "Habits of Character," a list that includes Cooperation, Courage, Fairness, Honesty, Kindness, Patience, Perseverance, Positive Attitude, Pride, Respect, Responsibility, Self-discipline, and Service. In addition, the sayings touch on other important ideas, such as quality, success, and health & wellness. From beginning to end, the quotes spiral through these topics to empower children with multiple opportunities to think about and discuss each one. Accompanying each quote is a set of "talking points" Steve provides as a reference that parents and teachers can use to draw full meaning from each saying.

In Changing Kids' Lives One Quote at a Time Steve describes a simple, effective way for parents and teachers to conduct meaningful discussions with children. Though the conversations take only a few minutes, the exercise is a valuable one because it encourages kids to think deeply, because there is a high tone to the dialogue that appeals to the best in people, and because it allows your family or classroom to start the day on a positive note. Further payoffs to consistent use of this activity include better student behavior, stronger work habits and social skills, improved attitudes towards school, greater enthusiasm for and increased dedication to learning, more connections made between school and students' present and future lives, and enhanced vocabulary development.

Finally, Steve provides a series of prompts for teachers who are interested in using the quotes for journal writing purposes. Furthermore, Steve shows how talking and writing about these quotes addresses a variety of important language arts standards.
Sample Quote
Here is a sample quote from the book along with its talking points.

Quote #21

"7 days without exercise makes one weak."
-Rudy Benton

*****************************
Health/Wellness

• Rudy Benton is a legendary Physical Education teacher from Northern California with a gift for clever word play.

• The key to this quote is the word "weak."

• Of course, seven days makes one week on the calendar. Seven days without exercise, however, makes one weak.

• Benton's point: keep your body healthy by moving it around on a regular basis.
Endorsement Statements
"An excellent resource for home or school, designed to provide the parent and teacher with a simple, to-the-point plan to engage, empower, and promote the much needed character-building traits in today's youth."

-J.D. Hughes, M.Ed and Ed.S
National Board Certified Physical Education Teacher, Author, & National Physical Education Consultant
Villa Rica, GA
"Steve Reifman's Quote of the Day discussions draw on the latest educational research and his own innovative approach to helping our children reach their highest potential."

Dan Stern
Parent, Roosevelt School
Santa Monica, CA


"As the assistant principal at my school I believe that building the character of our students and challenging them to think about their actions and opportunities is vitally important. With this in mind we begin every school day with some thought provoking quote or message. Steve's book provides an excellent, conveniently organized resource for this type of daily motivation."

Todd Sanderson, Assistant Principal
Byhalia Elementary School
Byhalia, Mississippi


"These inspirational quotes, presented in the classroom or offered around the dinner table at home, engage children in remarkably insightful, lively discussions concerning their meaning. It's heartening,and great fun to hear kids excitedly sharing their ideas and interpretations of these phrases and listening to others offer their own impressions. The pro-social, affirmative messages in the quotes encourage children to draw on their own personal experiences to express what it means to them to be an individual within a community, a motivated, active contributor and participant in the larger world."

Susan Reichmann, (m.a., l.m.f.t., a.t.r.-b.c.)
Parent/Marriage & Family Therapist
Santa Monica, CA


"I love this book! Steve Reifman has created a well-organized and thought-provoking book of quotes designed to focus students on positive character traits. Many students come to school without exposure to these traits that are so crucial to lifelong success. I plan on using this book and the accompanying talking points Steve has included to give my students a daily dose of positive thoughts!"

Diane Dahl
2nd Grade Teacher
Frisco, Texas


"Witnessing the children process the quotes Steve provided each morning in class was amazing! I was so impressed how each child was able to interpret and apply these quotes to their own lives. This is truly a wonderful technique that encourages children to think deeper and open their minds to a whole new way of thinking. I hope all teachers can apply this to their curriculum for their students to experience."

Chris Pegula
Parent, Roosevelt School
Santa Monica, CA


"What a vauable resource! These are great quotes, by great individuals, leading to the development of great people living out character-filled lives. Families, schools, and youth groups will all find relevant topics on leading a life guided by integrity, an essential in today's society. This book is the perfect starter for conversation, discussion, and reflection. We will be posting these quotes on our school bulletin boards. Thanks, Steve. This is a great idea."

Chip Candy
1995 NASPE Middle School Teacher of the Year
Marlton, New Jersey