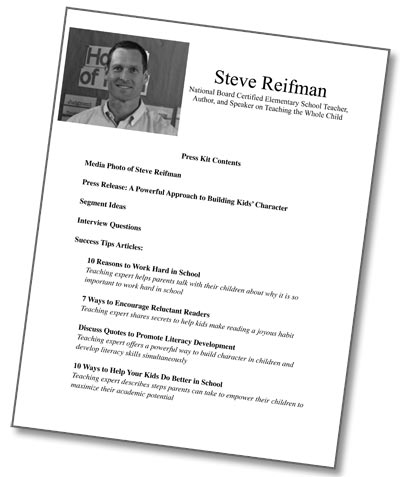 Online Media Contact: Anne Leedom
Net Connect Publicity
916-939-8246
This e-mail address is being protected from spambots. You need JavaScript enabled to view it.
Click here to download
Steve Reifman's PDF Press Kit
Teaching Kids How to Get "Unstuck" While Writing (Teaching Tip #106)
In this Teaching Tip I provide a link to a short YouTube video I created. The video features two effective strategies that help children become "unstuck" while they are writing. The first of these strategies is a familiar one, while the second is less well-known and a bit more novel. Try these ideas in class with your students or at home with your children.




---
» See all Teaching Tips
Follow Steve on Twitter if you'd like to receive his Teaching Tip of the Week and other important announcements on your phone.